WE ARE ON NEW ZEALAND TV
The very delightful Michael Holland and the team at TVNZ Seven Sharp have done a lovely article on Marahau and the our Lodge off the back of our success in the annual TripAdvisor 2018 awards.
Secrets behind the lodge with the best service in the country

Meet the Kiwi couple who left their big money jobs in London to come home to open a lodge in little old Marahau in the Tasman Region. Three years on, and they've got the best service in the country, according to TripAdvisor. Even with the wrath of Ex-Cyclone Gita, they were still getting positive reviews.

Posted by Seven Sharp on Monday, March 5, 2018
ABEL TASMAN LODGE VOTED BEST HOTEL IN NEW ZEALAND FOR SERVICE IN 2018
We have just been awarded the number 1 spot in the annual TripAdvisor Travellers Choice Awards for best service across the New Zealand hotel industry (includes, hotels, motels, lodges). In fact this we are really proud to have been ranked so highly across six categories:
A lot of thanks goes out to our amazing team of cleaners and our family for all of their support and help.
ULTIMATE JOURNEYS FOR TWO
We were featured in this lovely book by Anne & Mark Howard, "Ultimate Journeys for Two". This is the story of their five-year honeymoon while travelling the world. We really appreciate them choosing Abel Tasman Lodge as the best place to stay in the area.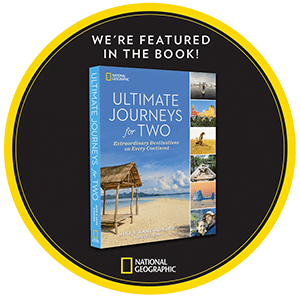 Get a copy on Amazon.com or a signed copy here
A DAY IN THE PARK
A great video by one of our guests showing what you can see on a beautiful day in May in the Abel Tasman National Park – audio in Portugese.
MENTIONS IN THE NEWSPAPERS
A lovely mention in the Metro UK newspaper. In fact, we are mentioned twice! 12 incredible things about New Zealand that will make you want to visit it right now
NEWS – A REVIEW OF THE LODGE
A lovely review from a recent guest. Thanks very much Phil.
NEWS – ABEL TASMAN LODGE VOTED IN TOP 15 SMALL HOTELS IN NEW ZEALAND
In January 2016, we were informed we had been recognised as 13th best Small Hotel in New Zealand in the 2016 TripAdvisor Travellers' Choice™ awards. The hallmarks of Travellers' Choice winners are remarkable service, quality, and value.
We were also identified as the 20th best in service of all accommodation providers in New Zealand.
We are both very proud that in our first year of owning the Lodge, we managed to get ranked so highly in these guest review awards. We really appreciate that a number of our guests went to the effort of reviewing us and that they enjoyed their time at Abel Tasman Lodge. Thanks.
NEWS – ABEL TASMAN LODGE AWARDED IN INTERNATIONAL HOTEL AWARDS
In August 2016, we were awarded in the annual LUX Hotel & Spa Awards 2016.
These annual awards are internationally renowned and in announcing them LUX magazine said "Everyone deserves to treat themselves to a break away from everyday life every once in a while, and we are proud to be able to showcase the very best establishments from around the world which provide guests with the very best service and experience. It is a real honour to be able to turn the spotlight on these exemplary establishments and the individuals behind them, and we would like to congratulate every one of my winners and wish them the very best of luck in the future."
SOME RECENT NEWSPAPER ARTICLES ABOUT THE LODGE
An article in New Zealand newspaper Destinations in New Zealand
An article in the Guardian UK Top 10 places to stay in South Island, New Zealand
Admire Magazine did a nice story on the region including a mention of the Abel Tasman Lodge. Click on the magazine cover to read more.
SOME OF THE GUIDEBOOKS THAT LIKE US